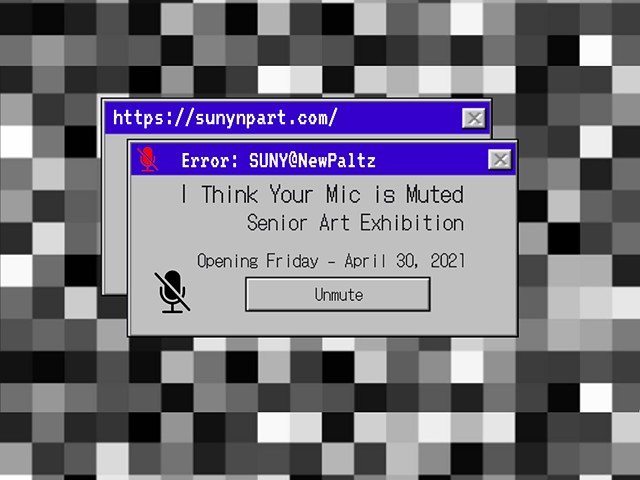 I Think Your Mic is Muted is an exciting exhibition that showcases the art work of Seniors graduating with a Bachelor of Science Degree in Visual Arts or a Bachelor of Arts Degree, from the State University of New York at New Paltz, NY. We hope that you will enjoy looking through this wide variety of work, including Painting, Drawing, Metal, Ceramic, Sculpture, Photography, Printmaking and Graphic Design. Each student has created a page featuring their Artist Statement, their body of art work and individual contact information. I Think Your Mic is Muted opens on Friday, April 30, 2021. Visit our site as often as you like!
We would like to extend our sincere appreciation to the Art Department and the School of Fine and Performing Arts at SUNY New Paltz for supporting this exhibition.
Congratulations to all of these wonderful Artists featured in I Think Your Mic is Muted!

Page Beckerman
Lexie Sky
Taylor Briddell
Rachel Buhse
Willa Butler
Jordan Caywood
Tyler Conklin
Abigail Creglia
Kristina Cruz
Gianna Durante
Veronica Evanega
David Folk
Sawyer Kessler
Jorrie Landis-Clinton
Amy Lang
Brittany La Tour
Mikayla Martinez
Jordann McKenna
Keely McTigue
Jennifer Mindes
Rachel Munning
Christine Nguyen
Meghan O'Reilly
Emalee Renjilian
Cady Robles
Olivia Rodriguez
Emma Schiffer
Ian Silverstein
Jennifer Stewart
Katherine Voska
Andrew Wood
Yuying Zhang